Texas – southern part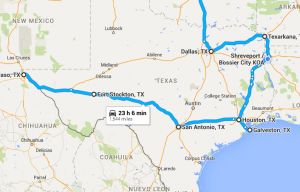 We left Las Cruces and headed to Texas, through El Paso, of course. We didn't have time to check it out or stay here as we needed to be in San Antonio in 2 days.
Being such a long drive, we broke it into 2 trips, landing first in Fort Stockton, at the Fort Stockton RV Park. A decent park with pool, big grass area to play, and a few cute cats that seem to make their home here.
Fort Stockton is an interesting place, but I think most travelers probably use it as a jumping off point to head to Big Bend National Park at the Rio Grande – the border of Mexico. We didn't have time, but I think we would have loved to.
San Antonio is beautiful, …and a bit sketchy in places like any big city, but we loved it. We stayed at Braunig Lake where the girls saw turtles and discovered hidden nests of duck eggs.
We fell in love with the Riverwalk and even took a book tour of it, along with walking much of the route itself. Oh, and we stopped for some Ben & Jerry's Ice Cream.
The Alamo was also a great experience. Just such an icon, yet, right there in downtown San Antonio, it almost looks out of place. A great setting for a history lesson. One thing that's true here (writing this after the fact), is that so many names we saw here, we saw again as we studied the civil war and the transformation of some of the territories to states.
Houston was not a problem

– We visited Galveston and the Johnson Space Center. We stayed at Safari Rv Park which was a bit scary at first, but turned out to be great! It looked like an old mobile home park, and it is, but it has a dozen or so RV parks, and it was very quiet and a convenient location for a lot less than other parks. It's also the place we saw our first LIVE armadillo