New Mexico – southern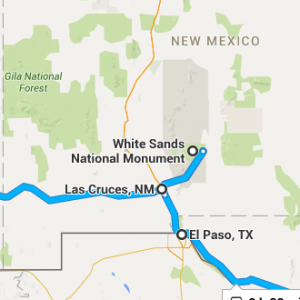 From Southern Arizona, we made our way to Las Cruces. We stayed at Hacienda RV Resort which was rather nice. This is still a Western town and this park reflects that.
The town of Las Cruces, itself, is a good mix of old and new. A lot of historic parts. Downtown area was empty, but looked like a town of the 40s or so. But much of the architecture in Las Cruces is SouthWestern obviously.
We checked out the train depot that was a big deal in that area way back. It was a station on the routes through New Mexico and the West from Colorado to Arizona.
We mostly just explored the town a bit, but our big trip here was to White Sands National Monument. Being a National Park, we get in with our Fourth Grader Pass to all the National Parks.
We really wanted to see the Missile Base and museum, but we missed out due to time. I had made a doctor appointment in San Antonio and we needed to be there in a couple days and the trip was going to take a couple days, so we just ran out of time.