Arizona – second trip
Arizona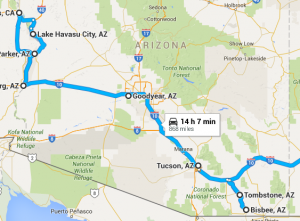 The Second trip trip to Arizona picks up about 10 days later. We need to be in Tucson for a conference in a few days, but we need to get a Tow Car.
You can read the whole story about getting the tow car here. It's a long 12+ hour day of crazy.
This took us to Lake Havasu City, AZ where we went to pick up a car, then to Needles, CA to register the car, then to Parker, AZ (actually on CA side) to stay for the night.
Not only were we in a hurry, but it was Friday and we had to be in Tucson by Monday. So we then headed back to Goodyear, AZ (again at Destiny Phoenix) for the day (and to get fuses for the car). Then on to Tucson.
In Tucson, most RV parks are near the freeway, which actually is a slow drive to the church where the conference was. But we stumbled onto an RV park just down from the church and it turned out to be amazing! It was a 55+ park, but they let us in (and with the kids, too). Michelle and I even commented that when we reach that age and want a park to move into, this one could be it. It was a very nice resort style called Far Horizons Tucson Village RV Resort.
We met friends there for the leaders conference at Calvary Chapel Tucson and the time with friends and the conference were very refreshing. It'd had been some frustrating times – dealing with getting the car, but also with such a shift in lifestyle, that it was good to have a taste of home and people who cared about us hang out for 3 days, all while we were ministered to by many of the pastors at the leaders conference at Calvary Chapel Tucson.
We even made a day trip out to Sabino Canyon and had a blast on the tram and exploring.
When all of our friends left for home, we made it out to Tombstone and Bisbee, AZ. In Tombstone, we took a tour of the town while we heard the real story of the 'gunfight at the OK Corral', and then had a great lunch in a local spot there.
In Bisbee, we toured the Queen Mine, dressed in gear – helmet, light, slicker & belt – and traveled into the mine on the rail car line. Fun side trip exploring how mines worked.
On Sunday, we made it to church service at Calvary Chapel Tucson where we learned that the air show was in town down the street at the air force base, the one that contains the 'boneyard' – hundreds of planes just parked for parts. The girls actually enjoyed in and we got a tour of several planes and watched the Thunderbirds fly amazing aerobatics.
We made Tucson home for about 8 days and it really made a mark on us and refreshed & energized us for the trip forward.